MAX CAPACITY FOR ALL YOUR DEVICES
 "Most Versatile Mobile Charger, Period."
Brandon McNew / customer
Phillip Li
Omni Mobile 25600 works as CPAP battery pack
I bought RedMed AirMini CPAP a year ago for my business travel. Since then, It has been a "must" gear when I go to Asia. The only problem is I can't use it for a long flight. I started looking for a solution online. The most of battery pack designed for CPAP are all above $300. On the other hand, It is hard to find regular battery pack offers DC output up to 24V with decent power rate. The second best option is those products with AC output. But that also means I have to carry an AC adapter onboard airplane. Moreover, the AC adapter also takes some juice off when doing power conversion. When traveling, I want to pack as light as possible therefore bringing an extra AC adaptor just for the battery pack is also out of question. Until I found the Omni Mobile 25600mAh. It comes with DC 5.5x2.1 power jacket. All I need to do is to buy a DC adapter power cable ( $29.00) for AirMini. Now I have a perfect solution – I spend less than $180 (with tax and shipping) to turn on AirMini onboard airplanes without carrying AC adaptor.
Jeff Daigle
Great Companion for 15" MacBook Pro
This power bank effectively triples the length of time I can work without plugging in to a wall outlet. I'm able to use my computer as I normally do for web development and image editing without worrying about running out of juice all day. The battery pack can refill my 2016 15" MacBook Pro's battery from ~20% to 100% while I use the computer, and the pack will still have enough left to top up my phone if need be. I don't own any devices that can charge wirelessly but that feature might come in handy some day. Fit and finish and build quality is excellent. It's got a permanent spot in my laptop bag!
Orlando Estrella
Amazing! From looks to functionality.
This powerbank is absolutely AMAZING. I just received and it. I really bout it to replace my anker one and also for the fact that I an charge my laptop with it. I have a Dell PXS 13 9360 and this powerbank charges it BEAUTIFULLY. I can even charge my Pixel 4 at the same time as the XPS. The quality feels and looks great. The power/voltage button is extremely responsive. One of my best purchases.
Brandon N.
Nice quality, works well, better than the rest at the price point.
There are a lot of batteries out there that you can choose from. I have researched and purchased a number of them. The Omni Mobile is the best one I have come across to date. The ability to charge and use it at the same time is a huge benefit. I can use it as a charger for my devices while I travel and only have to carry 1 item as a charger / backup. The output is solid, charging is fast and so far it's been a very reliable device. I would recommend this to anyone looking to power multiple devices during the day.
Demu
Keeps me charged up all day when away from my desk!
After having 5+ mobile chargers in the past, this Omnicharge Mobile Charger really lives up to my expectations. Much more so than my previous devices. I am able to keep the battery pack on my desk charged up and ready to go. The pass through charging capabilities are great too - enabling other devices to charge at the same time while also reducing my need to additional power bricks and cables. Away from the desk I can power my MacBook Pro, iPhone, and whatever else I need at the same time.
Mitchell S. Hoffman
Seems like a top quality product
I am looking forward to using this. It came with cables to charge both to and from the USB-C port. This is my first trial of an external battery to use with my laptops, but now that they all have USB-C, this could be a real life saver when running low on juice. The build quality is excellent, and the packing as well.
Stephen Crim
I've kickstarted every product Omnicharge has produced
Since their original unit, I've used them for everything from parties to using it as a simple benchtop power supply for projects. Their mobile series provides a really good feature set for my daily life, and in particular the 25600 is great because of the selectable DC output. I use this to power everything from bucket swamp coolers to art projects to recharging my laptop. I'm excited about the USB-C because of my impending upgrade to a new macbook pro, and the USB-C output is ideal for that. For its size it packs quite a bit of lithium into a very slim profile, which makes it much easier to slip into my backpack (and lighter) than either of its predecessors. The variable DC output isn't quite as flexible, but I still use it frequently because most of my applications will accept a range of voltage. USB-C input isn't quite as prevalent, but I haven't had any issues with that using the including USB-A to USB-C cable. I'm very happy overall and recommend this and other Omnicharge products to my friends. Their whole line is great.
S. Monteverde
It works as advertised!
I previously had an Omnicharge 20 and loved it, I needed a power bank that will charge both, my MacBook Air as well as our new Chromebook. This one little unit will charge the MacBook air almost twice and our chromebook about 2.5x when fully charged. Plus it supports wireless charging so I can charge my iPhone by just placing it on top of the unit. Thanks Omnicharge, this is what I was looking for. Comes with a couple of charging cables, no power brick so I'm using the chromebook charger to charge it.
Zeki
An amazing, compact backup battery!
An amazing, compact backup battery that supports Qualcomm's Quick Charge 3.0 standard. This bank let's you charge multiple devices at once, with up to one Qi Wireless device, two USB A devices, and a one USB C device. This allows you to keep your device or tablet running for an entire day of nonstop use thanks to a 25,600mAh battery. It's a powerful charger and definitely a must when you need juice on the go!
MDD
Excellant Travel Companion
We recently spent 10 days in Europe. We took with us the 25600 and 12800 models. I was able to use both to ensure that our phones never ran out of juice, even while consuming more power than usual due to extensive use of Google Maps to navigate. I own serveral Omnicharge products and they are all excellent. I would highly recommend then. The Wireless charging on the 25600 and 12800 worked perfectly with our iPhone X and XR and saved having to carry cables around.
Bradley Miller
Supplemental power for Dell XPS 13
Works well as a portable source for backup power with a Dell XPS 13. Rate of charging the laptop is comparable to using the original wall charger. Consumed about half of this power bank's capacity to fully charge the laptop's battery. When I added my phone for wireless charging, the output to the laptop did not seem affected. So far I've only used the USB-C port. Charging the power bank this way only took a few hours.
Juliet P.
Great charger for MacBook pro and air
My wife and I have a MacBook pro and MacBook air. This Omnicharge Mobile is perfect for us when we're traveling. Recently we traveled to Maine and we didn't have anything portable that could charge our laptops while driving. This is what prompted me to buy this. We brought the Omnicharge Mobile because we wanted something we could trust to not damage our laptops and it can also wireless charge our phones.
Nord
Doubles the battery life on my 2019 15" MacBook Pro!
I have the 15" MacBook Pro and most battery banks don't supply enough power to actually charge it while using the laptop at the same time. Bought this because of the 60W charging over USB-C and it works perfectly! This battery will charge my laptop from 0% to around 92% until the battery is empty. Great for working out of coffee shops that are stingy on the power outlets.
Paul
Amazing Portable Charger
I have been using this portable battery pack for about 5 months and could not be happier with it. This has been a life saver more then a few times. I carry a Surface Pro, MacBook Pro and an iPad Pro everywheres with me in my job as an IT support, and it is great to know that if any of my devices start to get low on power that I can simply plug into one little box and charge it back up without having to worry about carrying different power plugs or trying to find an empty power socket to plug in to. Would recommend this to anyone that needs to travel and worries about keeping their device(s) charged.
Brandon McNew
Most Versatile Mobile Charger, Period.
I was an early backer of this company with their first ever product, and ever since then they've really diversified their product selection. This mobile power bank can charge my 15" MacBook Pro at least twice, (my MacBook Pro's mAh capacity is just over 8,000, and this power bank has more than 3x that!) Couldn't be happier. This one is nice and slim, has a PD Port that fast-charges my iPad Pro up to 60w, and has a DC Jack-out port so that I can charge a multitude of laptops, like my Magsafe-port MacBook, and my Surface Pro, (they sell those adapters separate, I highly recommend you add that on). This'll last me a very long time.
MAXMIMUM CAPACITY
LAPTOP POWER
Loaded with a 25,600 mAh battery you never need to worry about being stranded without power. The 92 Wh battery is the perfect size for air-travel, and falls just within the 100Wh limit. With a multitude of power output options, you can charge all the professional devices you carry around with you.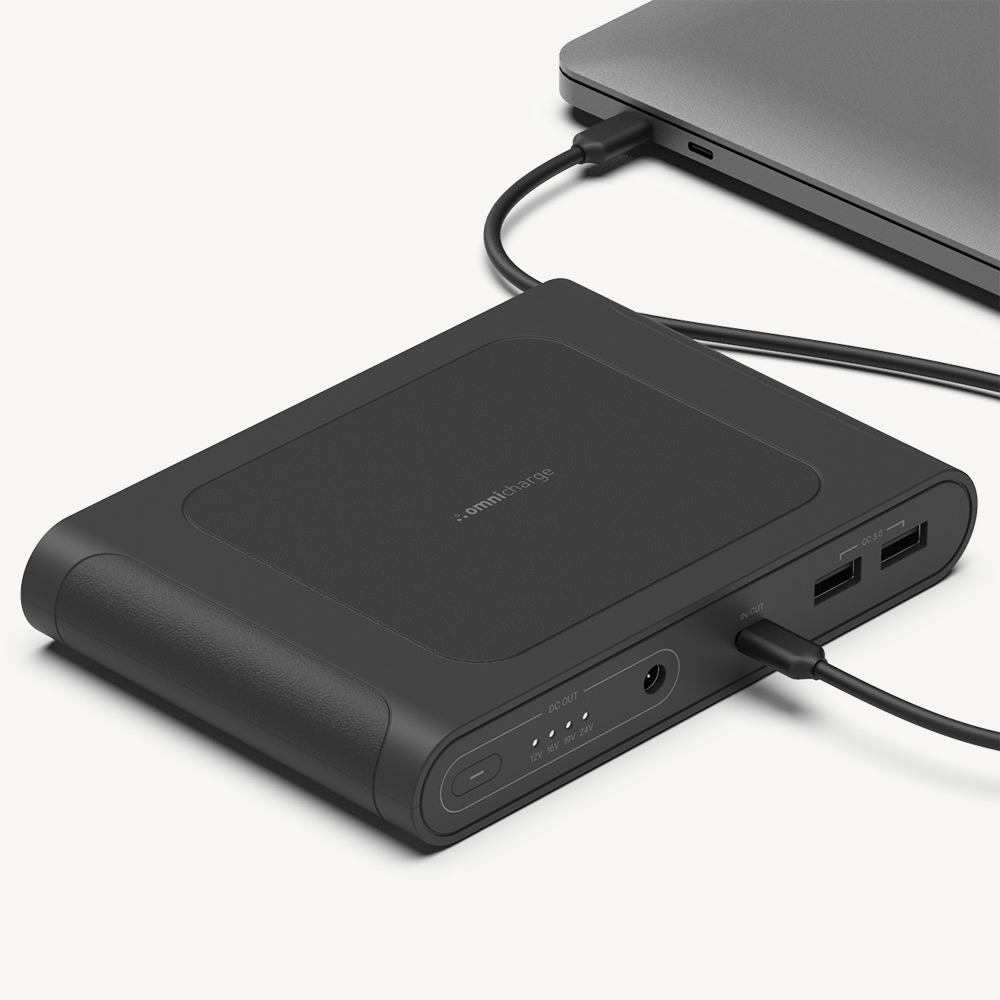 With a high powered USB-C port the Omni Mobile 25,600 now brings you one step closer to a world where a single port can be used to charge laptops, tablets, gaming devices and more. Providing top of the line power output, capable of powering even the most demanding USB-C laptops like Apple, Lenovo, Surface, Dell and Chromebooks.
ULTIMATE CHARGING EFFICIENCY
With the four most commonly used DC voltages, the Omni Mobile 25,600 can directly charge your laptop without needing your laptop charger. This portable and lightweight charging solution provides the ultimate in charging efficiency.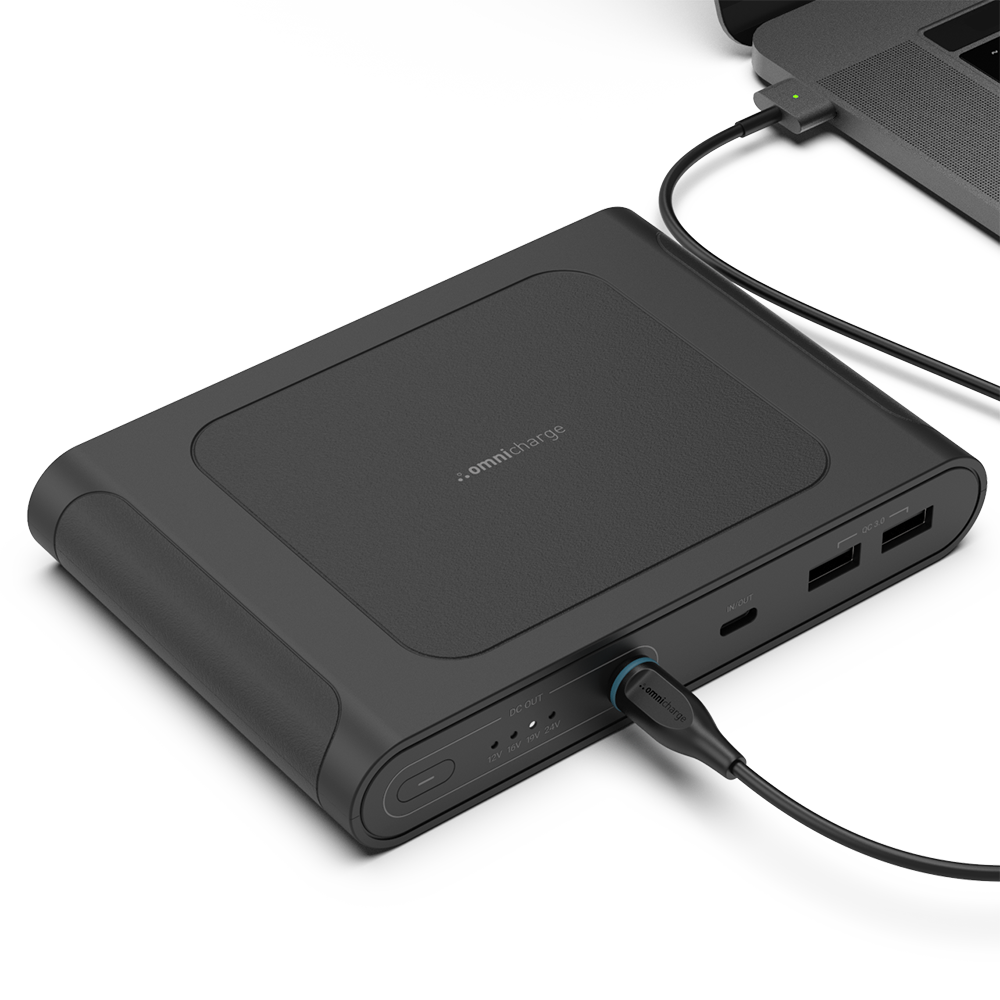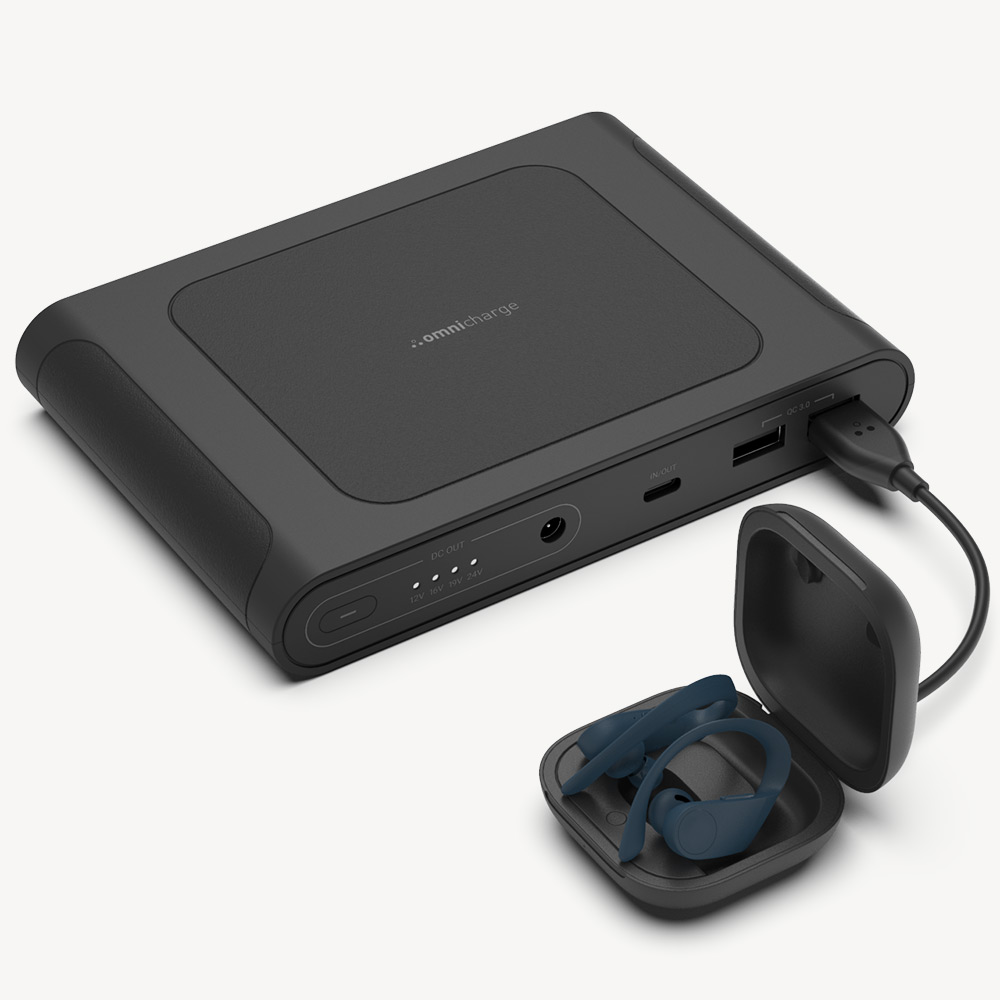 RAPID CHARGING
USB-A PORTs
Our QC 3.0 compatible USB-A ports provide top of the line fast charging for your phones, tablets and more. Capable of outputting up to 18W, you can fast charge many USB-A devices. Auto-shutoff can also be toggled on and off, allowing you to recharge small devices like bluetooth headphones without the Omnicharge shutting off due to low power draw.
With our easy to use wireless charging, you can feel safe leaving your charging cables at home. Our wireless charger supports a wide range of phones and wireless accessories, giving you a truly portable wireless experience no matter where you are.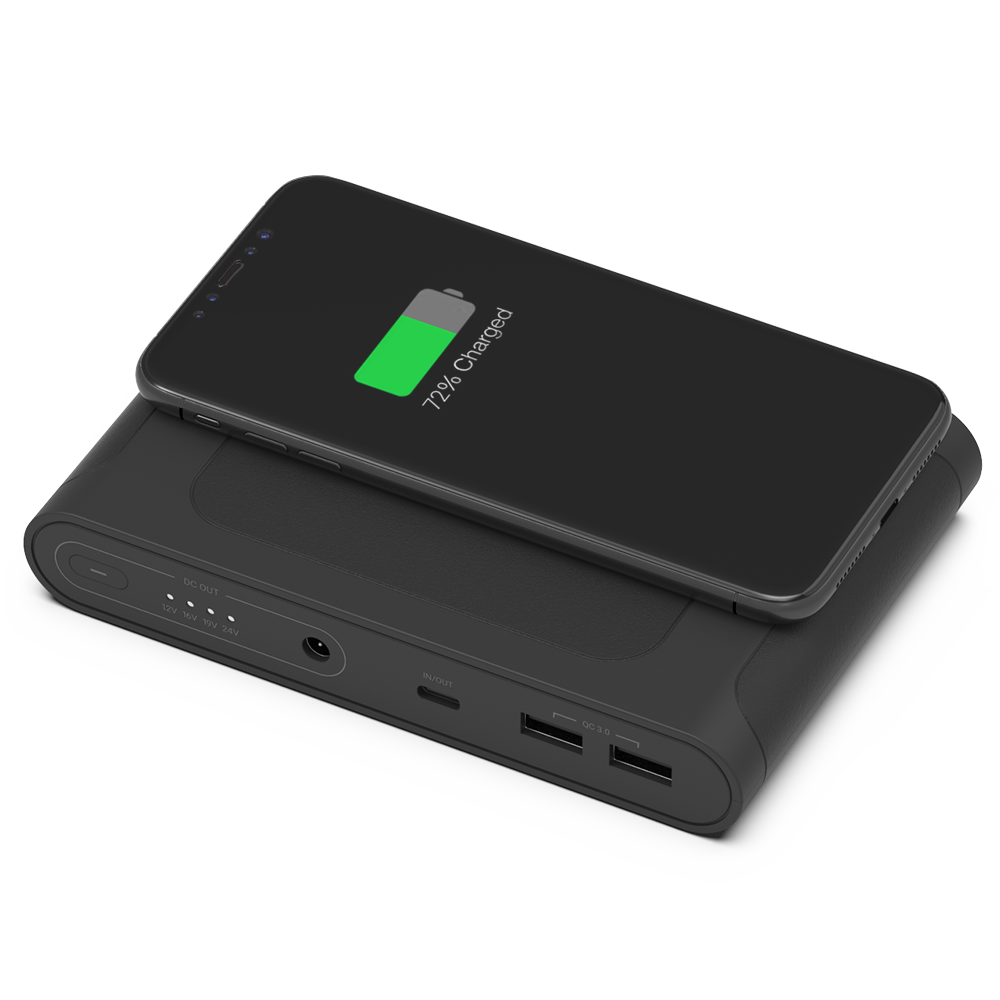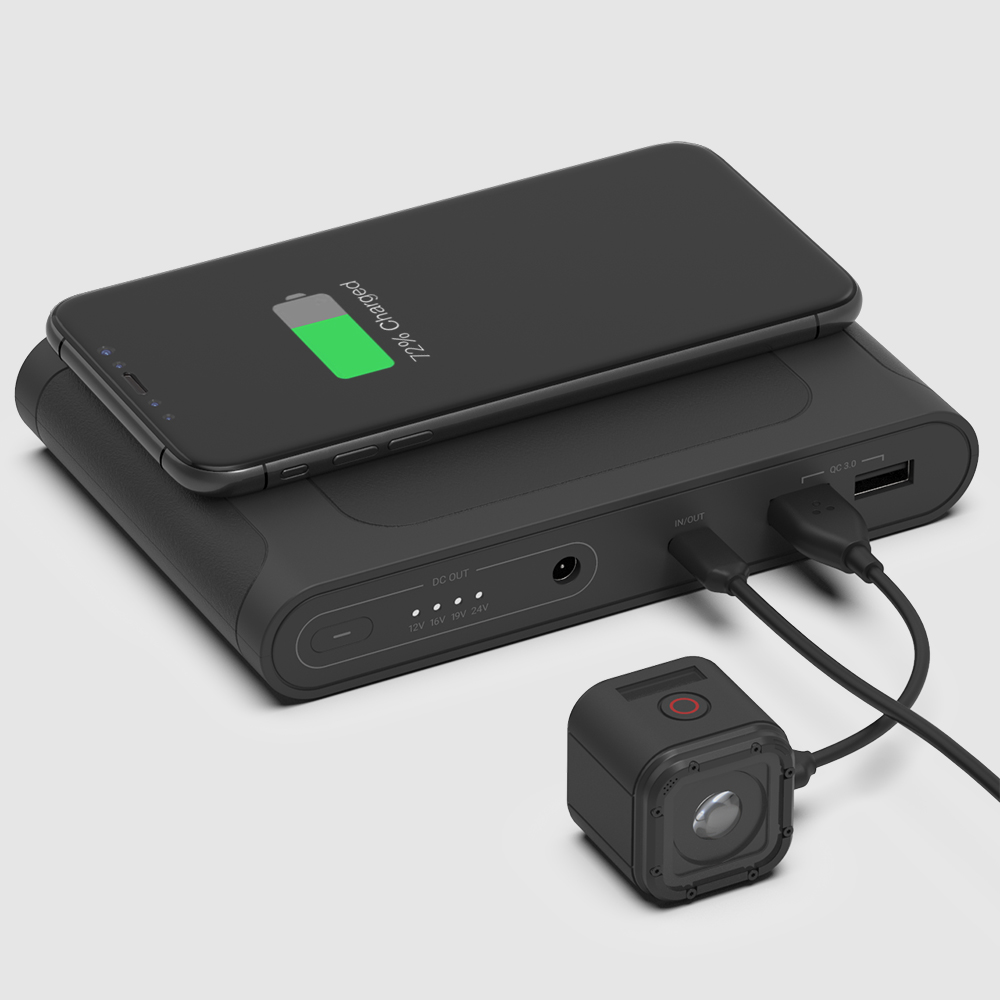 40W/45W USB-C & BARREL INPUT
FAST & FLEXIBLE RECHARGING
The Omnicharge provides exceptional recharging capabilities from both the barrel port and USB-C port and can recharge the Omnicharge in under 3 hours. With pass-through capabilities, you can recharge your Omnicharge from either input port while simultaneously outputting power to Wireless or the USB-A ports. And with a built-in smart power controller, it can easily be recharged from nearly any power source, including solar.
USB-C Port
Bidirectional Input & Output charging
Input: 5V-20V, up to 2A, 40W max
Output: 5V, 9V, 12V, 15V, 20V, up to 3A, 60W max
USB-A Output
Port1 and Port2: QC3.0,5V/2.4A,9V/2A,12V/1.5A
5.5 x 2.1mm Barrel Port
Input: 5-30V, up to 2A, 45W max
Output: 12V, 16V, 19V, 24V, 3.5A, 72W max
Wireless Charging
Output: 10W
Battery
Cell Type: 18650 Li-ion battery
Capacity: 25,600mAh, 92Wh ± 5%
General
Weight: 1.2 lbs (560 g)
Dimension: 4.3″ x 6.1″ x 1″ (110 x 157.4 x 25.4 mm)
Warranty: Limited One (1) Year
Operating temp: Temperature 0°C-40°C,Humidity 30-70%,Altitude ≤2000m