POCKETSIZED LAPTOP-POWER BANK
"You can charge your USB-C MacBook or other similar laptops, which is insane from something you can stick in your pocket."
knowtechie.com

The design team and engineers knew what they were doing when they crafted this device. They executed everything very, very well. The screen is crisp and readable in any lighting situation I've been in. The UI allows super easy to use. You can swap settings on the fly (such as DC output voltage). Real time status is not only cool, but very useful.
Matthew Taylor
Does it all.
In short, you get what you pay for. This thing really does it all. I've tested out the AC outlet which can output the advertised 100 watts - Impressive. The on screen display is useful to monitor output levels and the inclusion of a temperature reading for peace of mind. The ability to charge the device from the USB C port or barrel connector DC port is awesome. I was able to fully charge the device in no time using a 60 watt USB C charger, providing 45 watts of input to the device. The Qi wireless charger outputs a full 10 watts, which is nice and charges compatible devices quickly.
Mission Man
Excellence in Portable Power!
Expensive, but extensive features for serious travelers. Very compact, with well thought out-outputs. Has never let me down. For those who like to fine tune each charging output this is for you! Gives precision metrics on everything being charged, and power remaining. Does pass-through charging (charge the unit, while charging your electronics. Unit fast charges in 2 1/2 - 3 hrs. Unheard of! Buy the case (even though it cost extra-fits like a glove). One of my favorite gadgets!
Josh
Greatest portable charger of all time!
Without a doubt, this is the ultimate back up battery! It has a very rugged desi5and a very premium feeling matte finish. Not only does it have enough juice to charge up all your devices, but it is capable of charging them up at insanely fast rates. My two favorite features by far are the 10w wireless charging which is able to fast charge certain phones and the full sized AC port. The only negative aspect of this product is it ls slightly large size, which could casue some minor portability issues, but what can you expect from a portable charger with a 20,400mah rechargeable battery.
With a high powered USB-C port, the Omni Mobile 12,800 mAh is our smallest laptop power bank. With the added benefit of wireless charging, you can leave your charging cables at home and efficiently charge your phone just by placing it on the Omnicharge.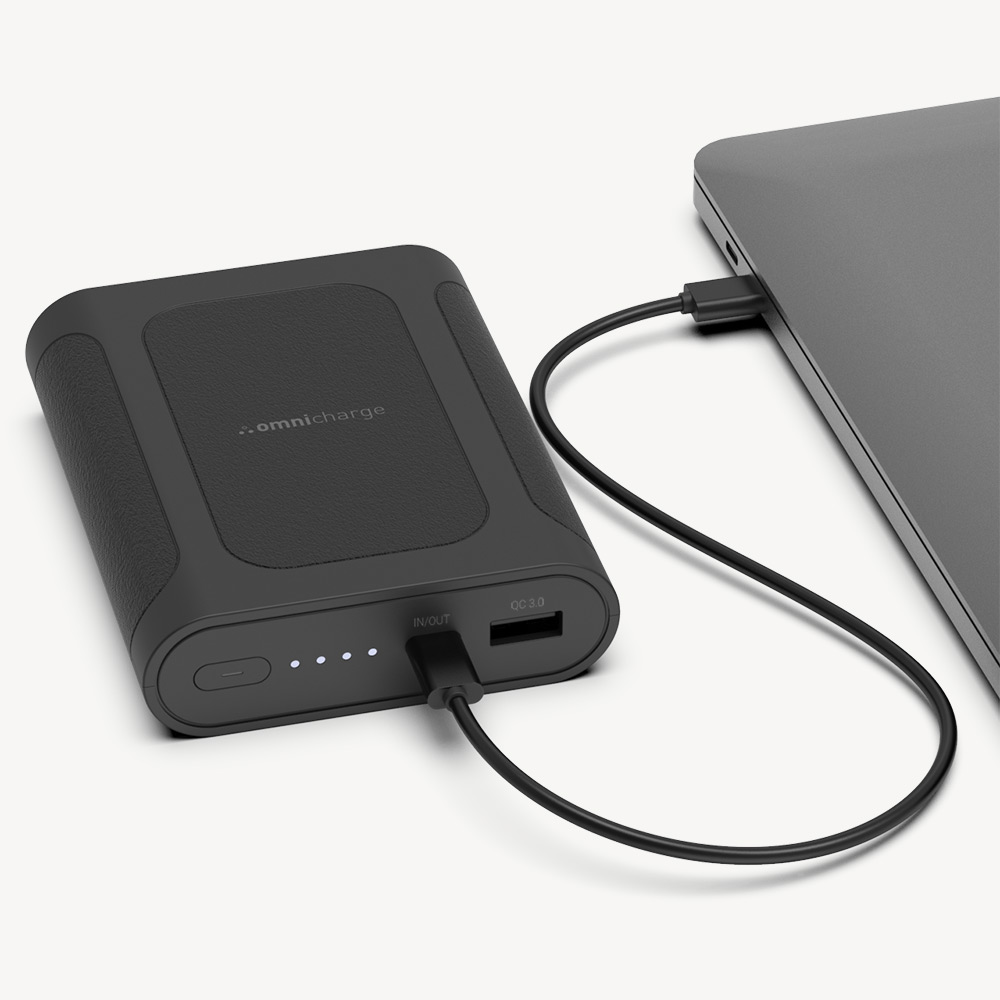 Our PD enabled USB-C port can provide up to 60W output and 30W input. Compared with similar products, it can provide over twice the wattage output. Capable of powering even the most demanding USB-C laptops like Apple, Lenovo, Surface, Dell and Chromebooks.
With our easy to use wireless charging, you can feel safe leaving your phone-cables and chargers at home. Our wireless charger supports a wide range of phones and wireless accessories, giving you a truly wireless experience no matter where you are.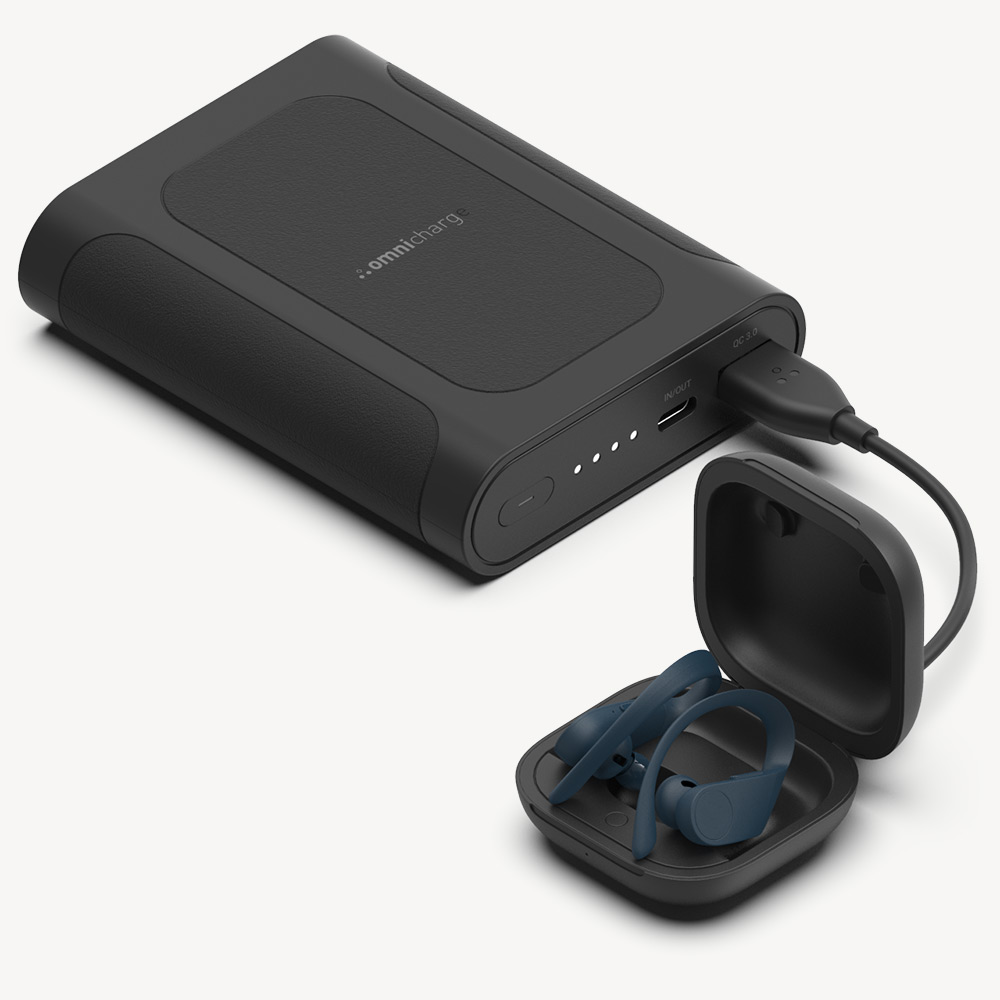 RAPID CHARGING
USB-A PORT
Charge your mobile devices with our high powered USB-A port. Capable of outputting up to 18W of power, you can charge up your mobile devices at lightning speed. Auto-shutoff can also be toggled on and off, allowing you to recharge small devices like bluetooth headphones without the Omnicharge shutting off due to low power draw.
With a 12,800 mAh battery, this battery provides a great balance between size and capacity. It is perfect for powering all your mobile devices, and if necessary, provide a significant boost to your laptops battery. With pass-through charging capabilities, you can both input and output power at the same time.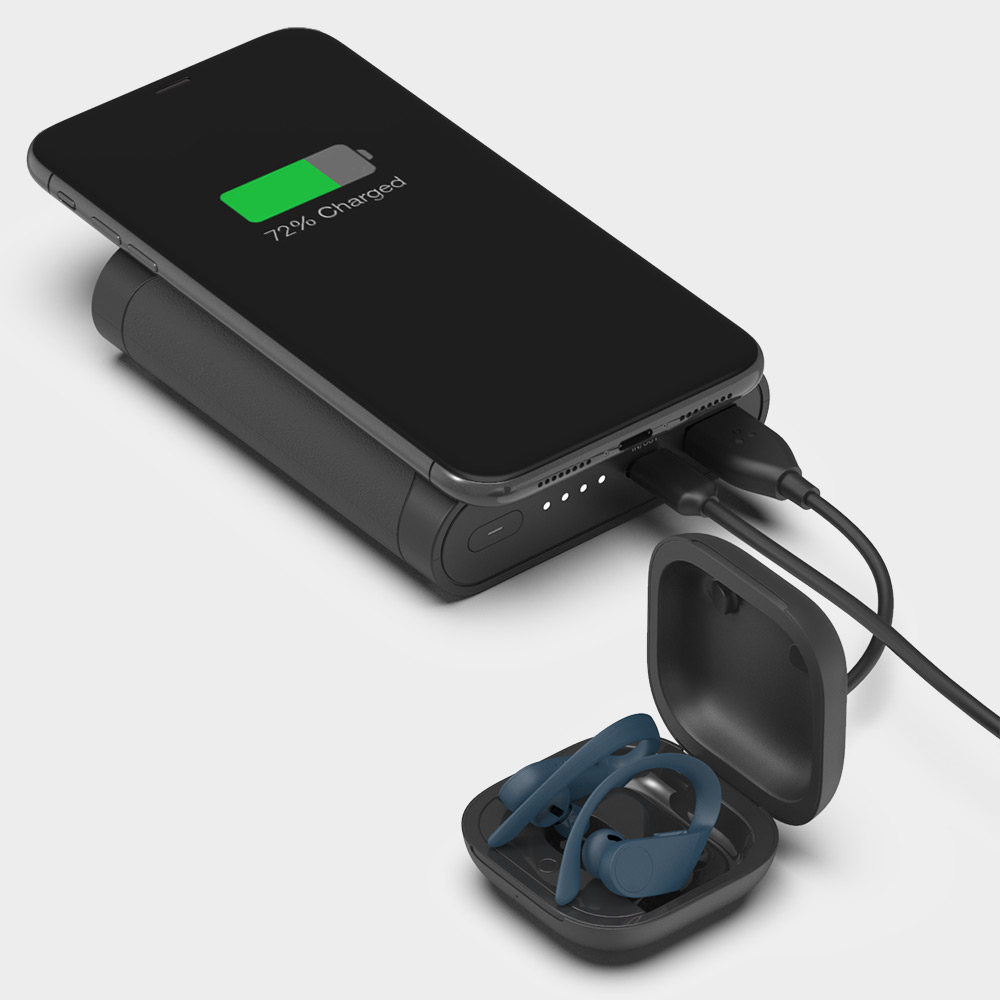 main features

what you can charge

Specification

NEED ACCESSORIES?
USB-C Port
Bidirectional Input & Output charging
Input: 5V-20V, up to 2A, 30W max
Output: USB-PD, 5V, 9V, 12V, 5V, 20V, up to 3A, 60W max
USB-A Output
Output: QC QC3.0,5V/2.4A, 9V/2A, 12V/1.5A
Wireless Charging
Output: 10W
Battery
Cell Type: 18650 Li-ion battery
Capacity: 12,800mAh, 47Wh max @3.7V
General
Weight: 0.57 lbs (260 g)
Dimension: 3.29″ x 4.33″ x 1″ (110 x 83.6 x 25.4 mm)
Warranty: Limited One (1) Year
Operating temp: Temperature 0°C-40°C,Humidity 30-70%,Altitude ≤2000m