FOR THE MODERN-DAY PROFESSIONAL
 "It's like the Swiss Army Knife of power ports."
GEEK DAD
The design team and engineers knew what they were doing when they crafted this device. They executed everything very, very well.The screen is crisp and readable in any lighting situation I've been in. The UI allows super easy to use. You can swap settings on the fly (such as DC output voltage). Real time status is not only cool, but very useful.
Matthew Taylor
Does it all.
In short, you get what you pay for. This thing really does it all. I've tested out the AC outlet which can output the advertised 100 watts - Impressive. The on screen display is useful to monitor output levels and the inclusion of a temperature reading for peace of mind. The ability to charge the device from the USB C port or barrel connector DC port is awesome. I was able to fully charge the device in no time using a 60 watt USB C charger, providing 45 watts of input to the device. The Qi wireless charger outputs a full 10 watts, which is nice and charges compatible devices quickly.
Mission Man
Excellence in Portable Power!
Expensive, but extensive features for serious travelers. Very compact, with well thought out-outputs. Has never let me down. For those who like to fine tune each charging output this is for you! Gives precision metrics on everything being charged, and power remaining. Does pass-through charging (charge the unit, while charging your electronics. Unit fast charges in 2 1/2 - 3 hrs. Unheard of! Buy the case (even though it cost extra-fits like a glove). One of my favorite gadgets!
Josh
Greatest portable charger of all time!
Without a doubt, this is the ultimate back up battery! It has a very rugged desi5and a very premium feeling matte finish. Not only does it have enough juice to charge up all your devices, but it is capable of charging them up at insanely fast rates. My two favorite features by far are the 10w wireless charging which is able to fast charge certain phones and the full sized AC port. The only negative aspect of this product is it ls slightly large size, which could casue some minor portability issues, but what can you expect from a portable charger with a 20,400mah rechargeable battery.
JiminyCrickets
Probably the best thought out battery pack on Amazon
For my job I end up using a lot of different mobile battery packs. I particularly need at least 45w of PD charging, and this pack offers both 45w and 60w. In addition to having a built in AC inverter (which you can toggle on/off to save energy), it has a DC 12v-25v OUT barrel connector for various accessories. Also has wireless charge pad on top of the device. All in all I would say this is a perfect travel companion. They really jammed as many mAh as they could within TSA guidelines.
JiminyCrickets
Perfect for powering laptops on long flights
I use the Omnicharge 20+ mainly for traveling--ex. Video editing on my laptop while on long flights. If I'm on a 2-3hr flight I can typically work on my laptop until we have to put our computers away. For longer cross country or international flights (that don't provide power outlets) I can typically get another full battery charge for my laptop for another complete working session. Even though I wish I could get more than one full battery charge on my 15" Macbook Pro, I'm thankful for what it can do. The direct USB-C connection is perfect and I can charge it up with my apple charger once I land.This size of 20,000 mAh is now the max battery size I travel with. I few years ago I brought a different 32,000 mAh external battery, which had the capability to charge my laptop, through Thailand. That battery was confiscated by Thai TSA officers because it was larger than their allowed size of 20,000 mAh.
Kenny Chang
Best Portable Charger!
This. Thing. Is. Awesome! I was doubtful for the price tag but let me say this, do you want to have to buy multiple devices or just one to get the job done. This can do everything and more. I currently use it to charge my laptop on the go and don't have to carry the pesky OEM charger and try to find an outlet while travelling. I can get about 2 full chargers for my laptop and use it for my other devices as well. Don't think twice about it. It's worth the money!
Shane Booker
Prefect for Disaster Response
As someone who works in disaster management, I never know where I will be or if I will be close to a power source. I did a lot of research and found the omnicharge. It is a little pricy, but after owning it for more than a month, it was certainly worth it! I find the unit does not weigh that much and carry it in my everyday computer bag. It works great and quickly charges items. I was amazed at how quickly it charged a drone controller, three times faster than the controller charger. USB C works awesome with my laptop. I highly recommend this unit, it is well worth the price, and certainly will not go anywhere without it.
Joshua A. Rindner
Game changer for photo & video!
I'm a professional photographer and this comes in clutch. Being prepared for anything is important and being able to charge/power strobes without an outlet can mean getting the shot perfectly or not. When you first get it it may seem a little bulky compared to a "normal" USB battery. But in a camera or laptop bag its just the right size, and with its rugged rubberized finish, it's perfect for pros. The thin profile is amazing. I have used other batteries with ac out and this one is epic, i plan to get several for multiple camera bags. I shoot with profoto b10s and it was able to charge/power the light while i was shooting. The lights were placed upstairs and weren't easy to get to, so having the extra shoot time, and not having to swap out with a spare, meant i could stay focussed on shooting and made a big difference.
JB
Not a big reviewer but this portable power bank deserves it!
m always concerned about products I buy online especially if there is no handling them before buying. After researching deep reviews, this battery backup is right on. Let me get to it, I bought this for a charge to my Huawei MateBook X Pro Signature Edition specifically, my note 8, and other devices were secondary. With my laptop totally depleted this got it to 95% before shutting down in sleep mode, so one good charge, which is all I expected, it will also easily double, triple my use of the laptop when in use, best for a long airplane ride or airport not searching for a plug. It also Charges very fast with a good 60+w adapter which I use my laptop charger for. It charges my note 8 a few times, so stop thinking about it as I did and just get it.
Orville D Ennis
Peace of mind
I've been looking at solar battery packs for a long time. Many of them are slick looking, offer great features...just like all the others. The OMNI 20+ has 'everything' I need and then even more! I have a 15" MacBook Pro and this is the 'only' small unit that can recharge it using my AC connection and even run small AC fans, etc. I also bought their 20 watt solar charger as back up when we are RVing. I am converting all my battery needs to USB devices, even my AA, AAA and my CR123A batteries are USB rechargeable using the OMNI 20+. Perfect!
Richard L
Can really power a laptop long enough to be useful
I bought this device because I really need to be able to use my laptop while traveling and it is not always easy to have access to a power supplies (Too crowded in airport and not always in practical location, not all coffee shop have easy access to an outlet). I must say that I am impressed as it does allow me to extend the use of my laptop by few hours which is enough for me to not worry about running out of battery until I can recharge. This device is very easy to use and intuitive and have enough port and outlet to be practical. The passthrough feature is also really nice as I don't have to choose between changing this device or my laptop. I can do both at the same time.
Adam Todd
Best Battery Pack for Travel
Best battery pack for travel. Full stop. I travel for work once a week, and for personal every two to three weeks. In either case, I have different devices that need charging. This will charge everything from a smart phone (multiple times over), camera devices, etc. You can also charge a laptop through the 60w charge option. There's an AC port for traditional plug devices, as well as a USB C port (UBB 3.0 - USB C and USB C - USB C cables included in box). If you're in need o a sleek, versatile battery pack to meet your device charging needs, omni20+ it is.
H. Hang
Omnicharge is top Shelf
This small compact portable charge is very versatile. I purchase to use on a camping trip that I was planning on going on but now with the Coronavirus situation, I have it at home with more time to test it out. I am using solar to charge the omnicharge through the DC plug and it charges just fine and fast. I am charging my phone wirelessly right now as I write this review and it charging it fast. I would recommend this item if anyone ask.
Ryan C.
The Complete Package
This thing is a beast of a portable charger, but not in terms of weight and size. It's simply the ultimate portable charger that has features you didn't know you wanted. USB-A fast charging, Check. AC 110v, Check. USB-C (at a whopping 60w out and 45w in), Check. Wireless charging (At 10w), Check. It even has a general-purpose DC in/out. Want to monitor charging and battery status? It includes a small display with relevant info next to two buttons to turn on/off the AC outlet and USB ports. The Omnicharge also fits form and function into a matte, surprisingly light block that is easy to pack in a bag.
Brandon N
This is the battery you are looking for!!
Upon using a number of charging devices, I can absolutely say that none compare to this one.-It has an amazing battery life- 20,000mAh -It has a built-in wall outlet so theres not a device it cannot charge( this is what truly separates it from the rest) -It has both a usb-c input AND output to fast charge all your devices -It has a reliable wireless fast charger -2 usb-a ports as well as a DC portThe most amazing part about this charger is the fact that it indicates the device(s) that are charging and tells you the speeds. There is no more second-guessing as to whether or not the plugged-in device is actually charging. I highly recommend this product to anyone who struggles to keep their devices charged.
Michael T.
This will go with me EVERYWHERE
I was looking for a portable charger that would be an all-in-one. After reading multiple reviews and contemplating pricing, all I can say is that you get what you pay for. This charger is solid and gives me multiple ways of charging. I recently went to Sweden and this lived up to the reviews by others. I was able to charge multiple devices at once (Osmo Pocket, Canon DSLR, DJI Spark, and two cell phones. The Qi wireless functionality is great too. It may be a little heavy for some but it should be expected given the power packed into this little beast. Highly recommend and I have no negative feedback to provide.
Justin Middagh
Greatest travel charger I have ever used
Simply put, this thing is amazing, and honestly the best overall charger and travel battery I have ever used. The construction is very solid, it offers different charging/power voltages in an easy to navigate display, and the fact that it has a fully functioning AC/DC port, type-c power, wireless charger, and qualcomm fast charge port is absolutely incredible. I daisy chain (using a powerstrip) all of my devices, and it can sustain my 15" librem v4 laptop along with my dell xps l321x and wifi pineapple for over 2 hours, and can give a near full charge to both of them. If you are on the go for work/school whatever, this is the portable charger you need to get!
Sync
Portable Road Warrior
An awesome product that keeps your devices powered. The USB, AC, DC, USB-C and wireless charging ensure every possible charging option is available. You just need the right set of cords and voltage information handy and you can forget the native chargers and cords. Powering a MacBook Pro or Surface Pro, iPhone, iPad Pro 11", Apple watch, Verizon Jetpack all at the same time while charging the power bank as well leveraging the pass-through feature.
Chris
Even more useful than I imagined!
I purchased this as I have a MacBook Pro and an iPhone, which are both lower hogs. I constantly found myself away from charge on the train or in the car and this product is incredible. I love the visibility of how the wattage is changing as it charges different products. I also love that it has wireless charging build into it, so I can simply set my iPhone on top of it while is charges my MacBook simultaneously. Great product!
ENGINEERED FOR THE
MODERN-DAY PROFESSIONAL
The Omni 20+ is a power bank that can intelligently power most devices all at the same time. Equipped with a high powered 60W USB-C port, a 100W AC outlet, and fast wireless charging, it is the perfect power companion.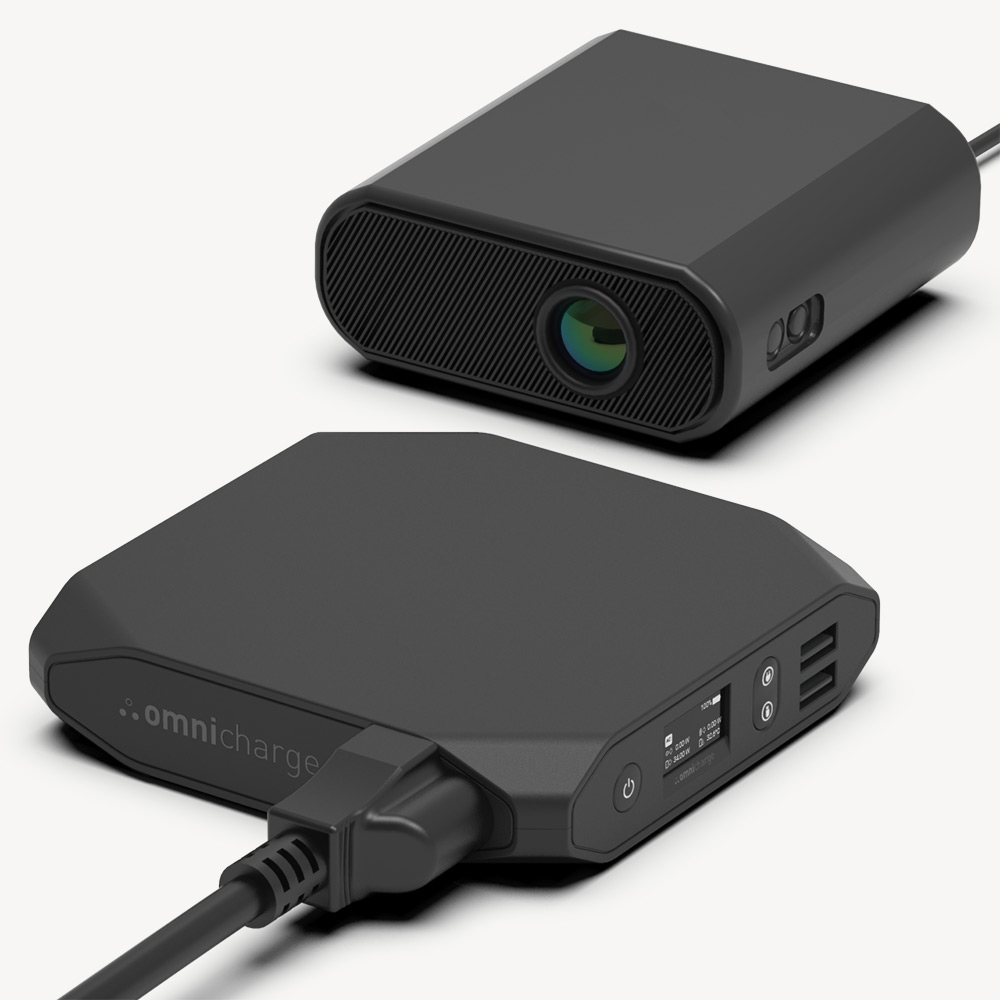 Free yourself
from the wall
With a full-size wall outlet, the Omni 20+ offers a flexible power solution for any situation. Its high powered AC output is capable of powering everything from laptops, cameras, drones and more, giving you reliable power no matter where you are.
ONE PORT TO RULE THEM ALL
Our new laptop grade USB-C port now brings you one step closer to a world where a single port can be used to charge laptops, tablets, gaming devices and more. Providing top of the line power output, capable of powering even the most demanding USB-C laptops like Apple, Lenovo, Surface, Dell and Chromebooks.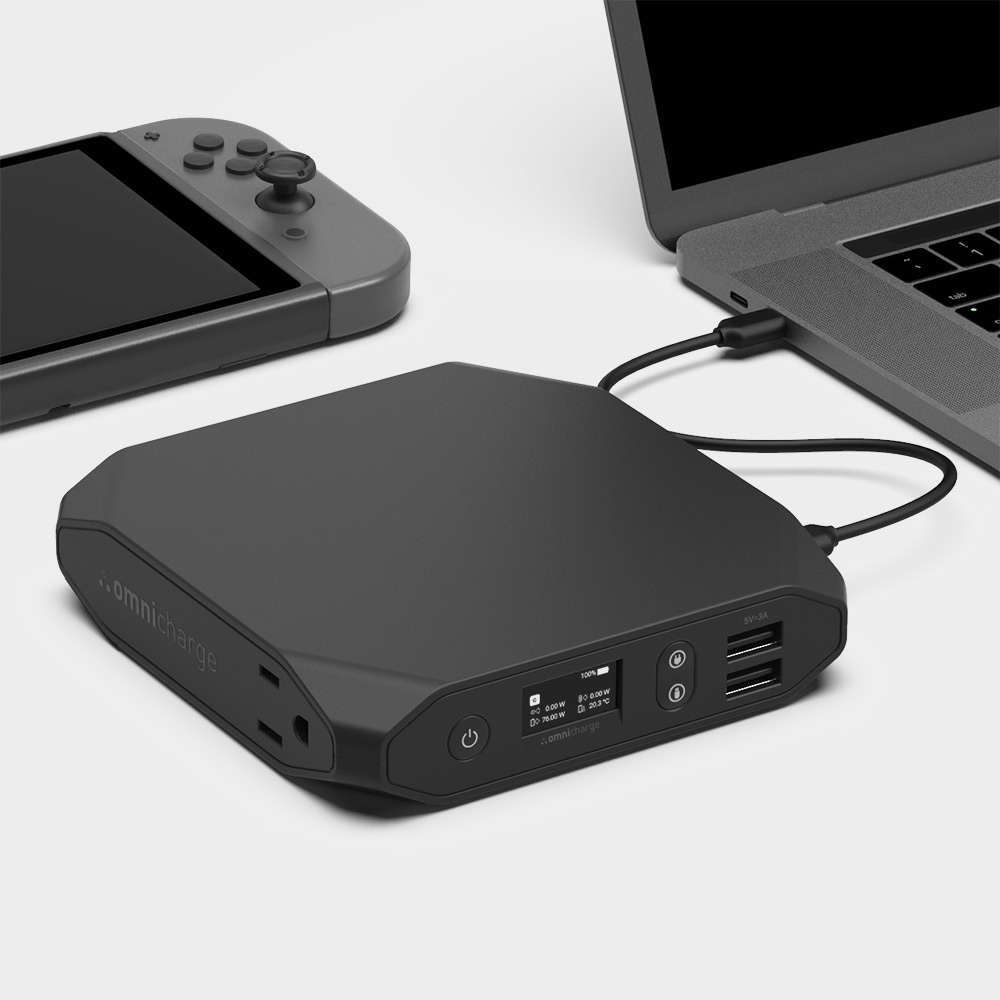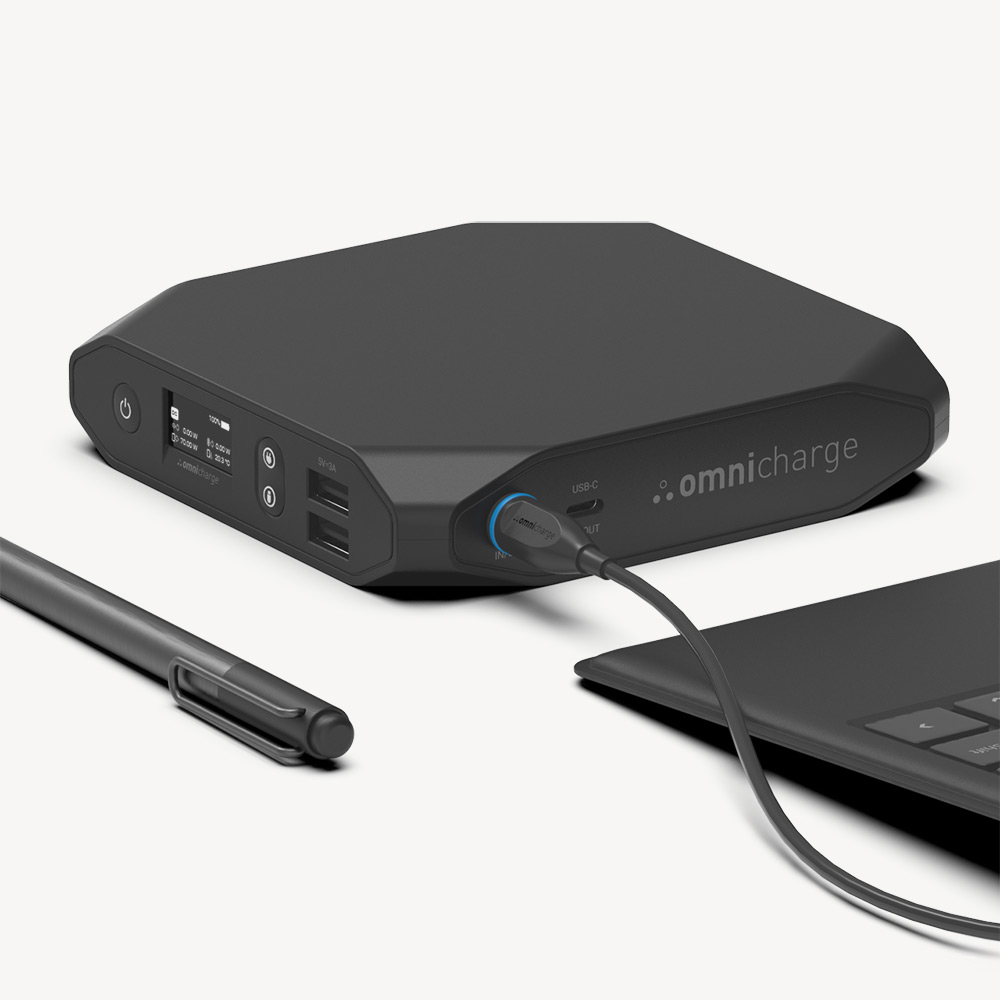 LEAVE YOUR
CHARGERS AT HOME
The universal barrel port is a programmable and adjustable DC output. As a more efficient charging method, DC output eliminates the need to carry bulky and heavy power adapters, providing a lightweight and portable charging solution for many devices such as laptops and drones.
*Cables sold separately
With our easy to use wireless charging, you can feel safe leaving your charging cables at home. Our wireless charger supports a wide range of phones and wireless accessories, giving you a truly portable wireless experience no matter where you are.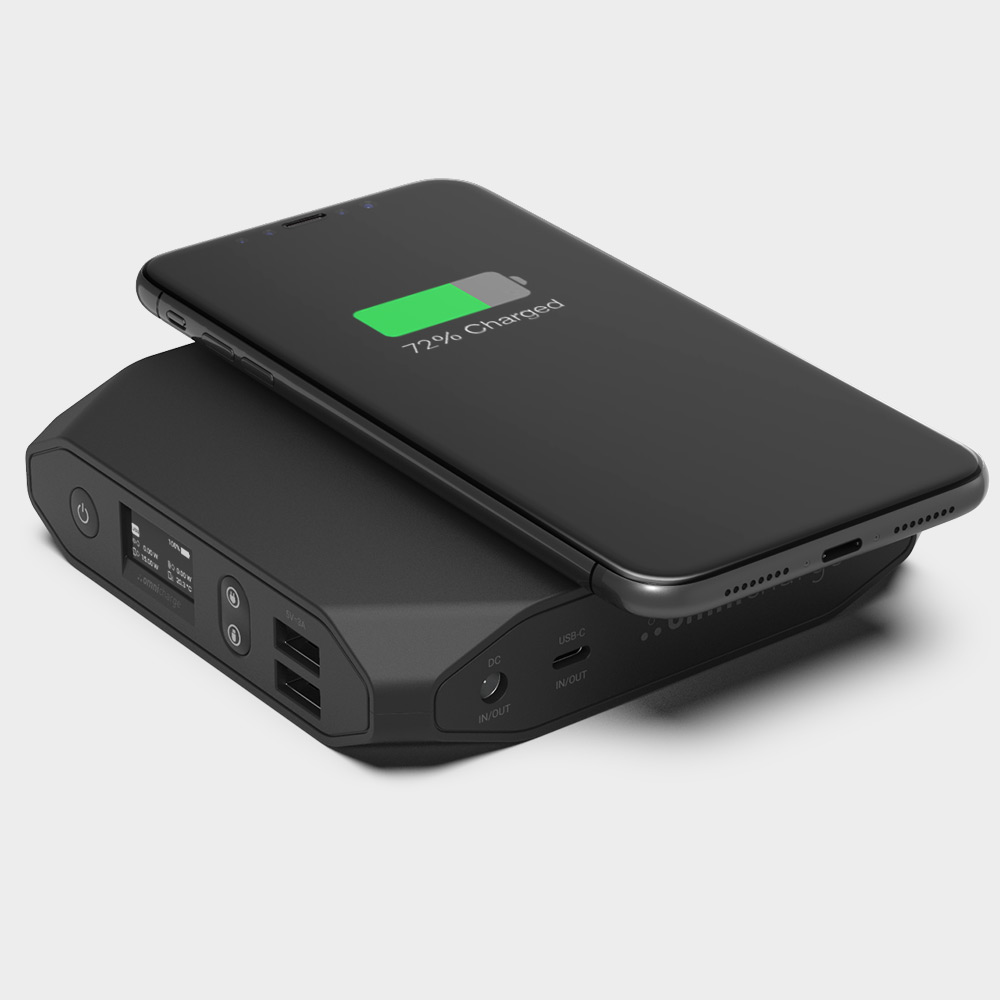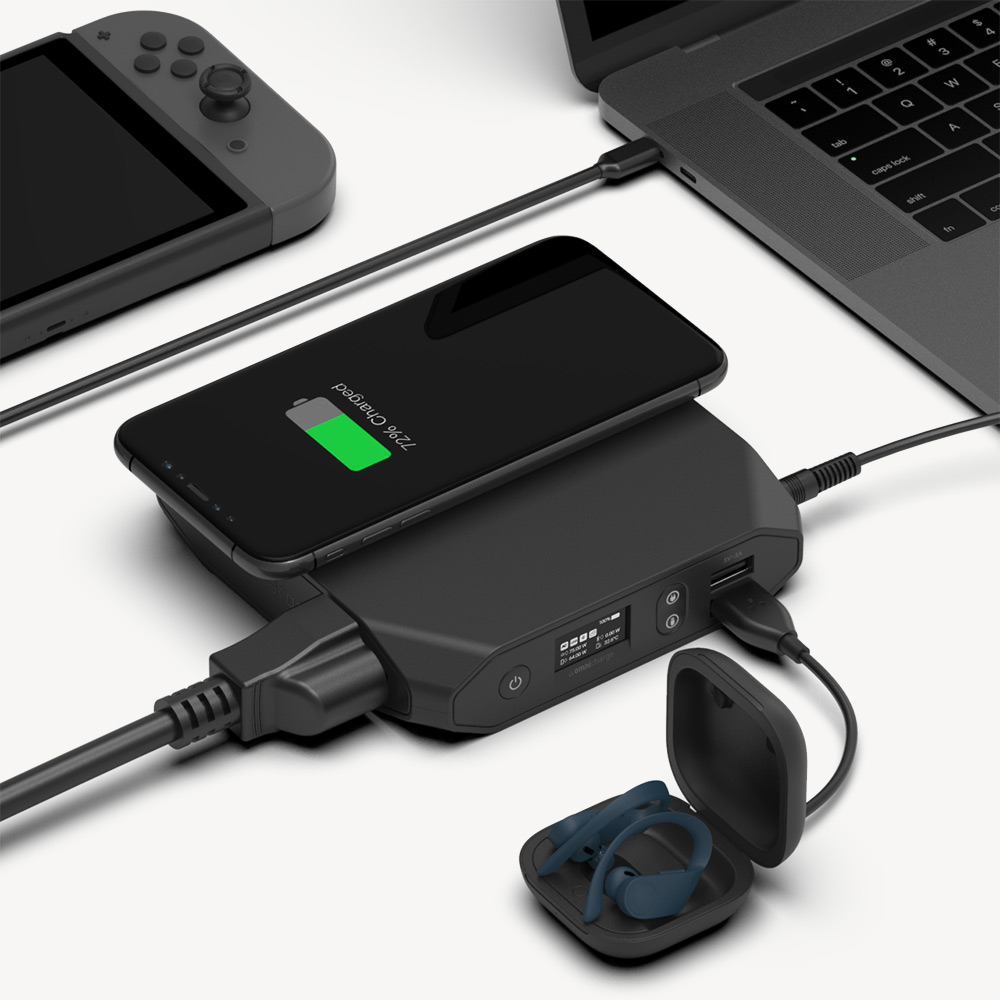 FAST & FLEXIBLE
RECHARGING
The Omni 20+ provides exceptional recharging capabilities from both the barrel port and USB-C port and can recharge the Omni20+ in under 3 hours. With pass-through capabilities, you can recharge your Omnicharge from either input port while simultaneously outputting power to Wireless, AC, or the USB-A ports. And with a built-in smart power controller, it can easily be recharged from nearly any power source, including solar.
No more guessing how much power your devices need or how much power your Omnicharge is providing. Our OLED screen provides smart power readings so you can take better control of your devices power levels, knowing what you need to stay powered throughout the day. The power is in your hands.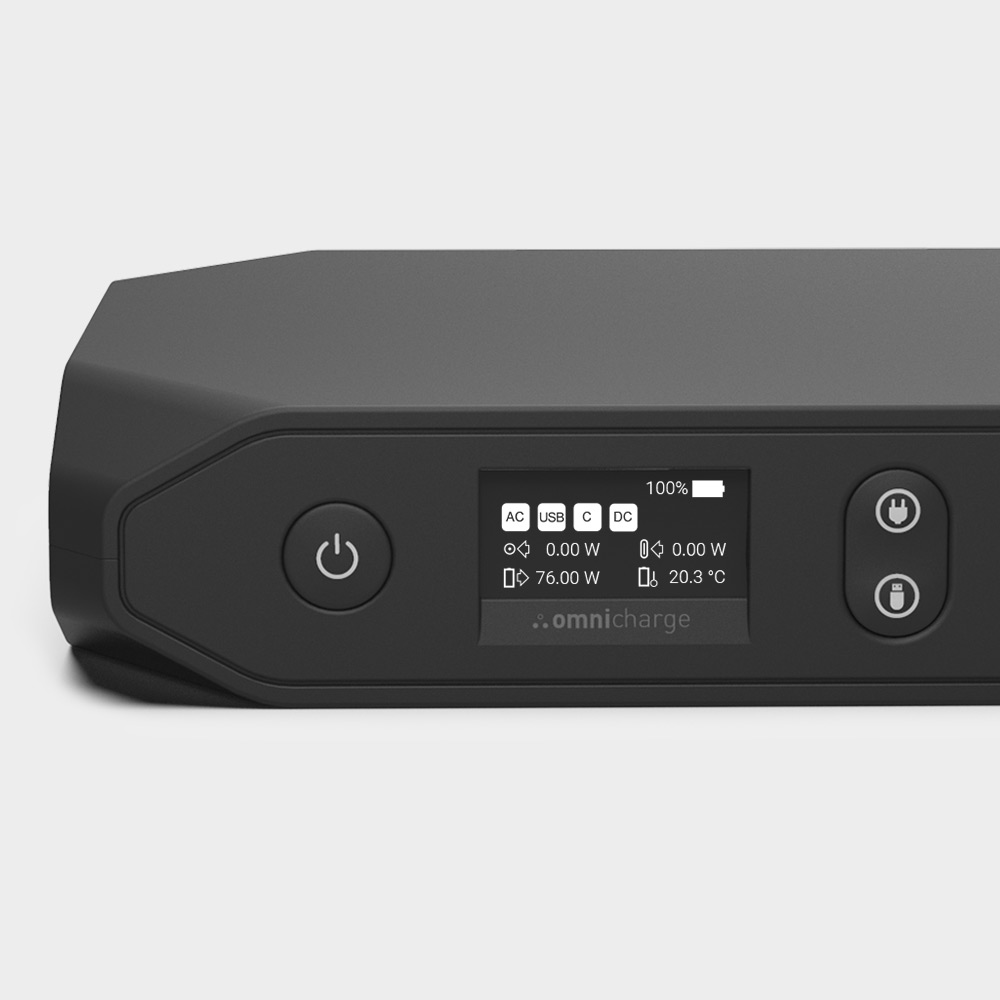 AC/HVDC Outlet
Output: 100W, 120V, 60Hz, modified sine wave
(230V, 50Hz, modified sine wave European version)
HVDC Output: 150V (300V for European Version)
USB-C Port
Bidirectional Input & Output charging
Input: USB-PD, 5V-20V, up to 3A, 45W max
Output: 5V/3A, 9V/3A, 12V/3A, 15V/3A, 20V/3A, up to 3A, 60W max
USB-A Output
Port1 and Port2: QC 3.0 , 5V/3A, 9V/2A, 12V/1.5A
5.5 x 2.1mm Barrel Port
DC Port: Bidirectional Input & Output charging
Input: 5-25V, up to 3A, 45W max
Output: 5-25V, up to 5A, 100W max
Wireless Charging
Output: 10W
Battery
Cell Type: 18650 Li-ion battery
Capacity: 20,000mAh, 71Wh ± 5%
General
Weight: 1.35 lbs (611 g)
Dimension: 5.0″ x 4.8″ x 1.1″ (12.7 x 12.2 x 2.7 cm)
Warranty: Limited One (1) Year
Operating temp: Temperature 0°C-40°C,Humidity 30-70%,Altitude ≤2000m